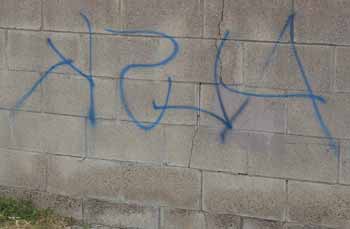 Welcome to the Normal Heights Graffiti Management Page. The SDPD has made some changes on the crackdown of graffiti. Read about their suggestions, and report your graffiti so we can help you get it taken care of.
Discuss Graffiti Issues with other members of the community.
City of San Diego Graffiti Rewards Program
You can receive a reward for reporting graffiti, up to 500 dollars.
San Diego Union Tribune Article
Read about the San Diego Police Department's New Task Force, and what they want you to do in the event that your property is vandalized with graffiti.
City of San Diego Graffiti Reporting Form
Use the City of San Diego's Secure Web Site for Graffiti Reporting
Graffiti Hotline: (619) 525-8522
Calls to the Graffiti Hotline are confidential.
If you see graffiti in progress, you can call 911